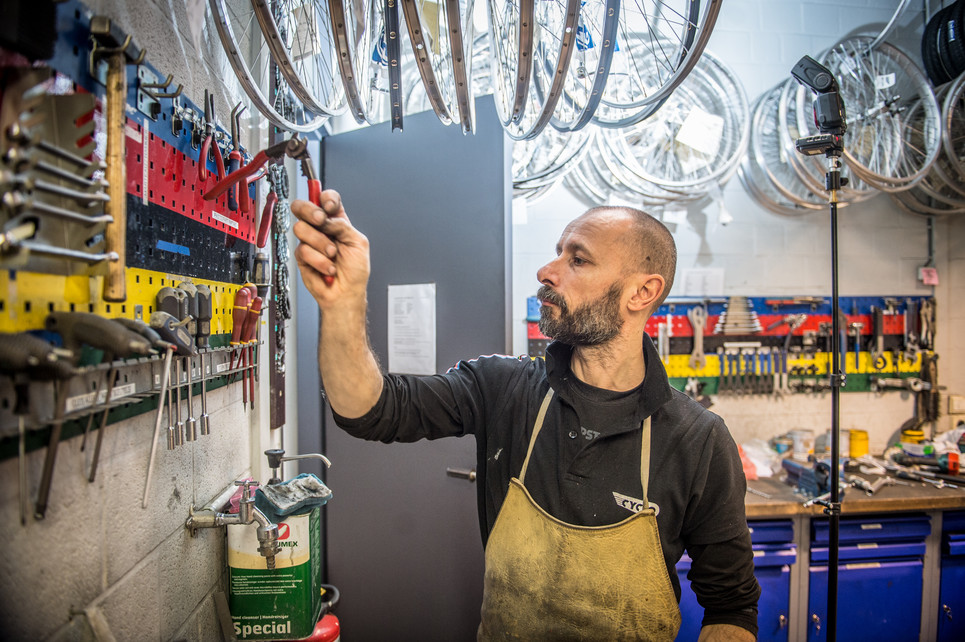 Bike Points
Bike points are the first line care for commuters and cyclists in Brussels.
The Brussels Capital Region and the NMBS-Holding appointed CyCLO as the operator of the Brussels cycle points in 2007 (North and Central) and in 2009 (Luxemburg and South) through an open tender competition.
Cycle points provide cycle services in the immediate vicinity of the stations. The intention is to promote the modal shift: use of the bicycle combined with the train, tram or bus on the same route.
We can assist you in the Brussels cycle points with:
Bicycle repairs
We do everything to get you back on the road in conformity with the regulations.
Replace wires, repair lights, adjusting derailleurs, repairing flat tyres, in short all minor repairs are carried out within 24 hours. For other repairs it is a matter of time, place and the knowledge available.
Bicycle rental
At the bike points you can rent folding bikes and town bikes for short and long-term rentals (€9/day).
If you are coming with a group, it is best to contact us in advance.
We also provide the maintenance and loan of the Blue Bike, the blue shared bike you can rent form all the cycle point in the country.
Bicycle parking
A bicycle parking is provided at each bike point, sometimes with access control. The bike point team carries out its supervision and keeps the parking tidy. Orphan bicycles are removed and stored by the cycle point. The bike points are in close contact with the police and the NMBS.
Information about mobility in Brussels
You can contact the bike points for information concerning cycling mobility in Brussels: actions, events, the regional cycle map, cycling associations, cycle tours, campaigns, etc. We will give you the best possible guide to cycling in Brussels.
The Brussels bike points are a partnership between the Brussels Capital Region, the Federal Government, the NMBS-Holding and CyCLO vzw.
You can find bike points at 4 Brussels Stations: North, South, Central and Luxemburg.
The Brussels bike points are part of a national network. You can recognise them from the bike point logo, and find them at the following website: www.fietspunten.be