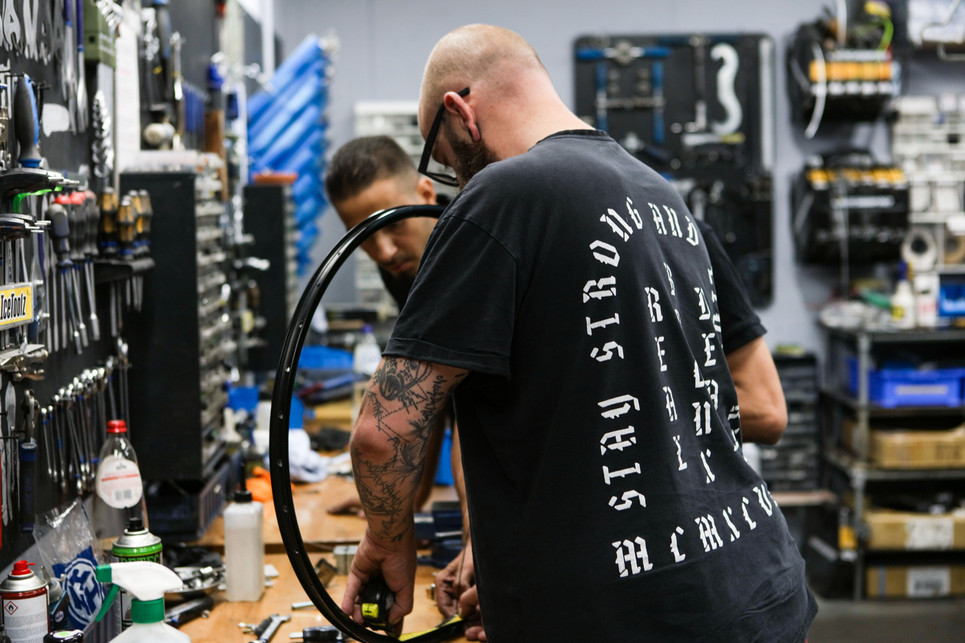 Training and employment
 In addition to bicycle technology, socio-professional integration through work experience has always been part of the CyCLO identity. From its inception in 2003, the non-profit association founded a program in the Rue de Flandre centred around professional experience and employment, called DyNAMO. Over the years, the DyNAMO project has developed into a broad work experience programme.
Through DyNAMO, CyCLO offers Brussels residents with a tenuous position in the labour market a work experience, giving them the opportunity to further develop their skills. Each assistant follows an individual course and receives a wide ranging training, both in savoir faire (bicycle technique) and attitude (communication, assertiveness, customer orientation, speaking, coaching and personal development). Then, with a view to gaining professional work experience, they follow internships in the various CyCLO workshops. Throughout the process he or she can count on guidance and evaluation.
Twice a year (in October and February) we start a training course for 8 people. These grouped registrations allow for a more harmonised and structured training per level, with a clearly defined programme and coherent team spirit.
IN PRACTICE
The DyNAMO work experience project wants to offer low-skilled and long-term job-seekers a work trajectory (on the shop floor). To participate, you must:
EITHER (1) be enrolled with the CPAS (OCMW) ánd be eligible to work under an Article60 or DSP-contract (check with your CPAS/OCMW)
OR (2) receive unemployment benefits and be eligible for a DSP- or professional integration contract (check with Actiris).
In addition, CyCLO offers two starter jobs to low-skilled youths (under 26 years of age). 
DyNAMO is:
4 months intensive training in our training workshop, located at the Quai des Charbonnages in Brussels
full-time employment in one or more shops starting from the 5th month
intensive guidance on general skills
Dutch lessons
a basic computer course
coaching at the individual and group level
DyNAMO aims to strengthen the general skills of its course attendees. While everyone follows the same programme, each shop assistant can count on a personal development plan, tailored to their own competences. Based on multiple evaluations and individual consultation sessions, the assistants are encouraged to improve certain skills. Each participant will benefit from a tailor-made work experience programme. As the end of the trajectory approaches, we try to increase the likelihood of employment after leaving the company, together with the CPAS/OCMW and LINK (by Actiris).
Do you want to gain work experience at CyCLO within the DyNAMO framework? Contact job@cyclo.org or call 0474 80 34 10.
CyCLO was recognised as a Local Initiative for the Development of Employment (PIOW) by the Brussels Capital Region.