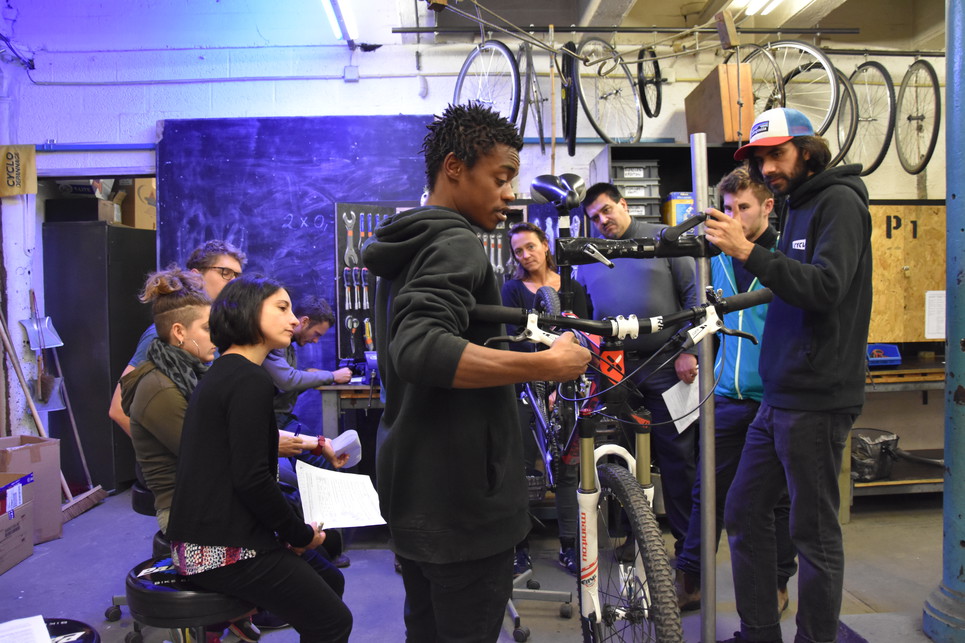 Bike mechanic Courses
You ride your bike every day, but how well do you know it?  How is it built up? How to take care of it? How to diagnose technical problems? The CyCLO evening modules allow you to get a better overall understanding of your bike and how it works, while also learning how to use the necessary tools.
All modules cover both theory and practice, but are not designed as workshops. If you have a problem with your bike, it might be better to choose for the Bockstael's courses because you'll have some DIY-time afterwards. If you're really looking for a participatory workshop check out the offer of our colleagues at Ateliers de la rue Voot or Cycloperativa.  
The basic module does not require any prior knowledge. Read more about the content of our different evening courses:
COURSES at the Quai des Charbonnages Workshop
Practical info
Courses will take place at CyCLO Buro, Quai des Charbonnages 30-34, 1080 Molenbeek-Saint-Jean (from Tuesday 3.10.2018 onwards)
6:30pm-9:30pm
How to enroll
Your can only enroll and pay on the spot at the Workshop in Rue de Flandre (from Tuesday 2.10.2018 onwards)
Price: €15 each course (residents of the city of Brussels (1000, 1020, 1120, 1130) get a €5 discount)
COURSES AT BOCKSTAEL's WORKSHOp
PRActical info
Atelier Bockstael, 160 Blvd Emile Bockstaellaan, 1020 Bruxelles
10:30am -12:30pm + the possibilité to continue working at the DIY-space
Only in French
Max 6 people
How to eNROLl?
Only on the spot at the Bockstael Workshop (from 3.10.2018 onwards)
Price: 14  €/unit (for everybody)
Next sessions will take place in Spring 2019. You want to be informed on the specific dates ? Subscribe to our newsletter and click Cours (du soir) mécanique vélo.
This evening course is supported by the city of Brussels.