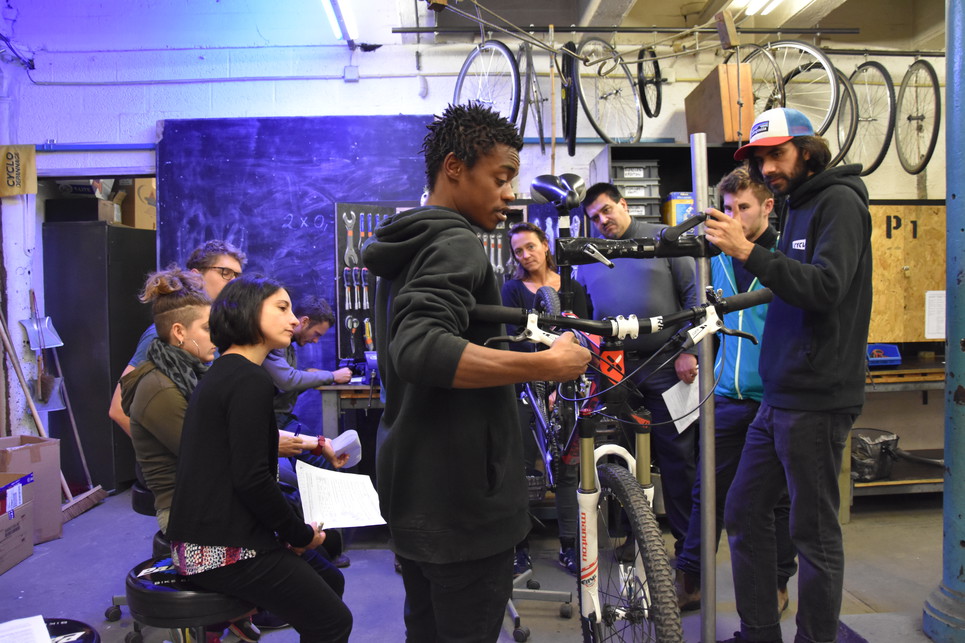 Bike mechanic Courses
You ride your bike every day, but how well do you know it?  How is it built up? How to take care of it? How to diagnose technical problems? The CyCLO modules allow you to get a better overall understanding of your bike and how it works, while also learning how to use the necessary tools.
This is our offer for April, May and June 2019:
Beginner?
These are the topics of our evening classes on Tuesdays and Thursdays for dummies:
Brakes (cabled rim brakes): Discover what type of brakes make your bike hold still when the traffic light turns red. Learn to understand their mechanics and become a true hero in replacing brake pads!
Derailleurs (with cables): Discover what type of derailleur help you climbing that hill! Learn to understand its mechanics and become a true master in adjusting and replacing gear cables!
Wheel bearings (removable): Discover what a wheel bearing system is all about, why they were put in the axle of your wheel and become a real expert of all those rings and balls!
Halfway?
You followed our classes for dummies on the same topic or you already have built up some know-how yourself. You are used to handle tools, meaning you don't hesitate which way to turn in order to screw or unscrew? Than these are the topics treated on Saturday morning:
Rim brakes (with cable) 
Derailleurs (with cable)
Headset bearings (cone and bowl type, removable)
Practical info
Tuesday and Thursday 6 to 8pm (beginners)
Saturday 10:30am to 12:30pm (intermediate level
There are English, French and Dutch classes, so check the calendar!)
Registration is mandatory
€20 registration and payment on the spot
€21,90 online registration and payment 
Dates, more info and online registration
Location