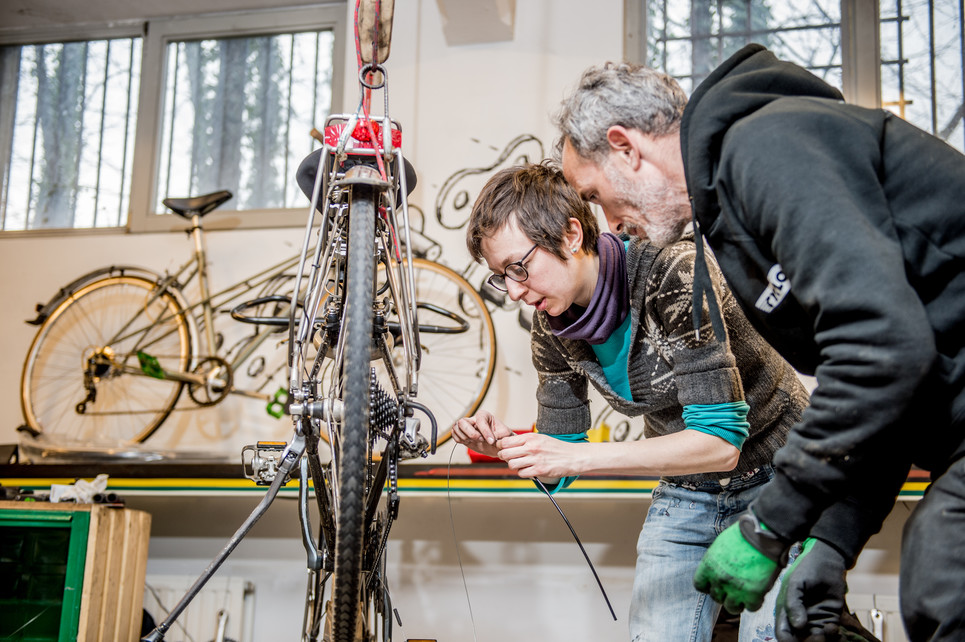 Repair yourself
Being an independent cyclist is to know the mechanics and function of your bike to be able to maintain and repair the human-powered two-wheeler. The technical expertise at CyCLO is our raw material. We can repair your bikes but we also encourage you to do it yourself. So we offer modular evening courses and also Do It Yourself space at some of our workshops. The different formulas:
Repair your own bike: you followed one of our classes and can work on your bike in an independant way? For 5 euros, 2 of our workshops and their tools are yours!
Repair your own bike with a little hand: repair your own bike with the help and supervision of one of our trained mechanics.
Learn to repair your own bike: Subscribe to our bike mechanic classes or ask for a (group-) worskhop on demand!  More info on the subjects, dates and schedule.
CyCLO's Atelier Participatif is open from Tuesday to Friday, from 12am to 7pm and on Saturday from 1pm till 5pm. In the Bockstael' s workshop you're welcome from Wednesday till Friday (2pm till 7pm) and on Saturdays from 1 till 5pm.

Info and Prices Het Atelier Participatif (FR + NL)
(883.88 KB)