second-hand bicycles
At CyCLO, we are passionate about durable bike mechanics. We repair bikes from this perspective but we also recondition old used bikes for sale.
At the CyCLO workshop at rue de Flandre, you can find a limited offer (about 10 bikes), but quickly changing, second-hand bikes that combine quality and durability. Depending on its characteristics, a CyCLO bike typically costs between €150 and €200 and has a warranty. A good solution if you want quality but have a limited budget…
We're sorry, untill the 15th of November there will be no bikes for sale in any of our workshops. We are currently working on an online platform on which you'll be able to scroll through all the bikes for sale at the Bockstael Workshop in Laken. Our workshop in the Rue de Flandre will be entirely focussing on its DIY services and the bike mechanic courses. 
What is a quality bike?
A bike is a sustainable item: it is good for the environment and as long as it is a quality bike and maintained regularly, it can be used for a very long time.
Cheap bikes sold at the supermarket are not durable. They are cheap but the parts are often substandard. They break quickly and are not replaceable. Invest in a good bike, it is a durable purchase that can allow you to cycle for many years.
But investing in a good bike does not mean spending a fortune. If you have a limited budget, buy a good quality second-hand bike. CyCLO assembles them using parts in good condition taken from old quality bikes. You pay the same price as a new supermarket bike but will enjoy it for longer and take part in recycling.
Quality criteria of CyCLO bikes
All used bikes sold at CyCLO have been completely dismantled, checked and reassembled, piece by piece. In the vast majority of cases, we replace brake and gear cables, inner tubes, tyres and brake pads with new materials to avoid any risks related to wear and tear.
For the sake of recycling and aesthetics, as many original parts are kept as possible. Typically, these elements are the best possible make with few manufacturing defects and may be used longer than parts of newer make.
Each bike sold by CyCLO also had a 3-month warranty on parts, operation and assemble.
We are always searching for materials to assemble quality used bikes: old bikes. Your old bike is always welcome!
CyCLO is an active organisation in the social integration economy: bike assembly is realised by low-skilled job seekers and the long-term employed, as part of the DyNAMO project, aimed at acquiring professional experience. Before these bikes are sold, experienced repairers examine them in detail.
Used bike fairs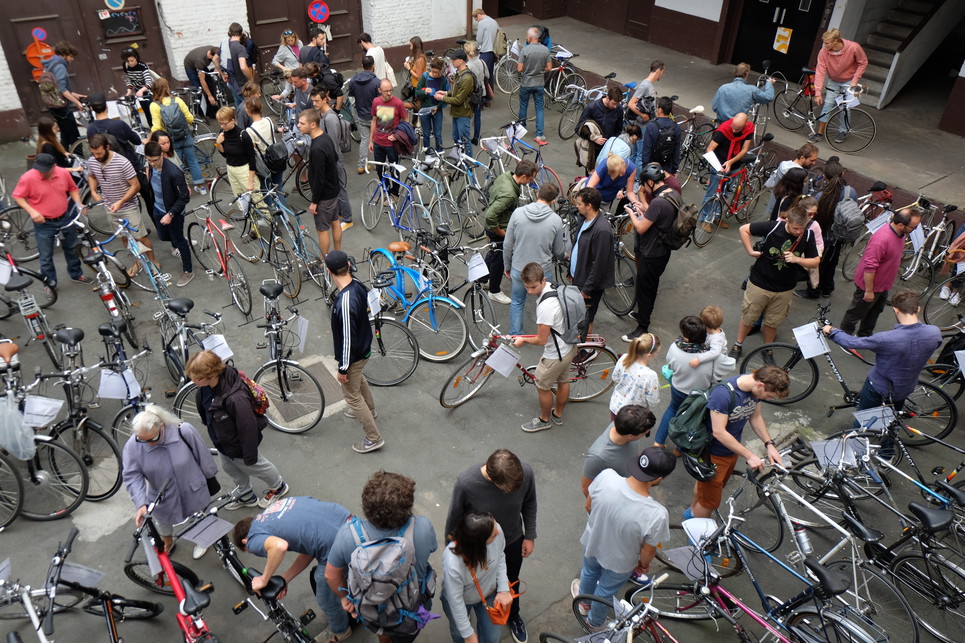 Twice a year, we organise used bike fairs on different locations in town. Then private individuals can sell their old bike or buy a cheap second-hand bike. Don't miss this fantastic event!
The next bike fair is planned on Saturday the 21st of Septembre 2019.
Buying a fleet of second-hand bikes
To improve sustainable mobility within your organisation (school, municipality, CPAS, …), you can acquire a fleet of service bikes, to make available to your employees for commuting or some trips needed during the working day. CyCLO will set up your fleet of second-hand bikes to your preference, if required in combination with a maintenance contract.
More info