Final Results Cyclehack BXL 2017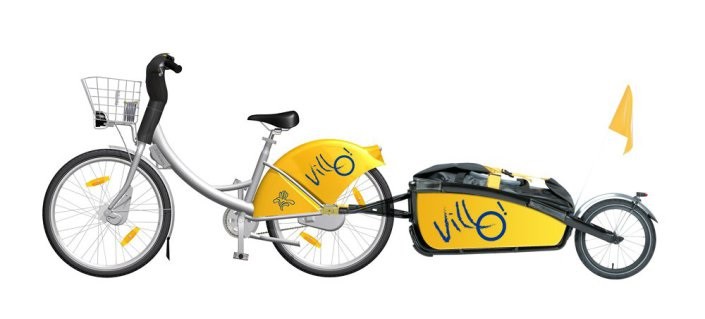 For the 3rd time the Brussels edition of the worldwide Cyclehack event took place in September 2017. Housed by CyCLO, it brought up a lot of inspiration to make our cities more bike-friendly. Among the seven projects that were developed during this intense 48h-event, one definitely convinced the jury. "Bike and go!", a system of shared cargo-bikes. Its inventors surveyed the need for renting or borrowing cargo bikes via a peer-to- peer system. They ended up in a concept for Villo! and other bike share systems to also provide cargo-bikes, trailers and other styles of bikes that allow for better urban logistics.
These were the six other projects to come out of Cyclehack BXL 2017:
HackLock: A "visitor" lock attachment for the public Bike Boxes, which allows someone to attach their bicycle to the side of a box
Street Art & Bike Boxes: A full project plan to combine street art with Bike Boxes to make them more beautiful, involving locals and artists
DIY Dynamo: An educational concept to raise awareness in schools about being visible with bicycle lights, allowing for children to learn about 3D printing, basic electrical circuits and dynamos (all for a very low price)
Federal Critical Mass: A critical mass reunion developed the idea for a Federal Critical Mass and the need for all Belgian critical masses to get together to discuss ideas, tips and issues
Paal Parking Poteau: A simple metal structure that turns every typical green Brussels small street pole into a bicycle parking. A cheap and reversible solution to the lack of bicycle parkings in Brussels using existing infrastructure.
Bike racks "U"-style: An online program dedicated to bring all existing bike racks on a map, in order to facilitate the implementation of new ones
The projects were an answer to a wide range of barriers to cycling that were collected among the Brussels population during the weeks before. The teams got additional inspiration by the presentation of Smart City Brussels (Céline Vanderborght), CycloParking (Marie Verkaeren) and MAD.Brussels (Olivier Gilson). At the end of this year's Cyclehack, all teams got critical and very constructive feedback by the four jury members: Mikaël Van Eeckhoudt (director Fietsersbond), Aniss Mezoued (professor of urban planning and mobility in Louvain-la-Neuve), Marlies Deforche (organizer Cyclehack 2015 & 2016) and Pieterjan Volckaert (winner Cyclehack 2015).
Many of the teams will soon come together again to discuss further steps and effective implementation. If you want to support them with your skills and ideas, join them on 05/10/2017 at 19h00 at CyCLO Buro, Quai des Charbonnages 30-34, 1080 Bruxelles. Don't hesitate, everybody is welcome.