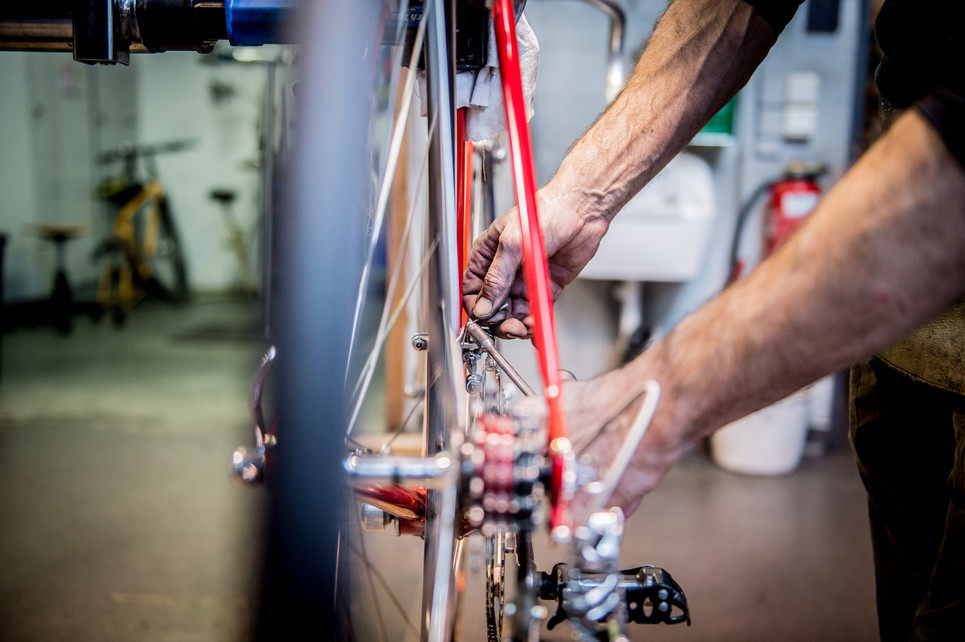 Maintenance & Repair
[ COVID 19 :  Wow, there's just so many of you that sometimes we can hardly keep up... So waiting times can be longer, as well as the time needed to repair your bike. Please give us a call (making an appointment is not possible though), pass by later or check out our Brussels bike services map. We'd also like to remind you that wearing a mask is mandatory in railway- and subway stations where our bike points are situated. This mask will help you to protect yourself as well as our mechanics. We prefer payement by card.]
CyCLO's main aim is to stimulate bicycle use in Brussels. We do this by repairing ALL push bicycles. If you break down, there is only one place to go: CyCLO. There is nowhere else in Brussels where as many bikes are repaired, even those in the worst condition, even – and especially – old bikes. So if your bike cannot be repaired anywhere else in the city, come to CyCLO. Our hourly rate is €42.
Major or minor repairs
A major repair is one that cannot be done immediately. So you will have to leave your bicycle in the workshop.
Minor repairs (expresso) are intended to allow the cyclist to return home. We will therefore do everything possible to get you back in the saddle quickly and safely in cases of minor breakdown: flat tyre, badly adjusted brakes, to replace brake cable, to tighten the chain, to adjust the derailleur…  These minor repairs are carried out at the bike points and are resolved within 24 hours.
And if the problem is more serious than expected? The bike point will contact you. They can either fix the problem with a longer waiting time than 24 hours or send you to a bike repair shop.
Are you an independent cyclist? At some CyCLO workshops you can also repair your bike yourself (all by your self or with our help).
Maintenance
Regular bike maintenance is important to ensure a long life for your bike and your own safety. We recommend at least one major maintenance per year. You can do it yourself or entrust this task to CyCLO.
At a major maintenance, all the bike parts are checked, fixed, cleaned and oiled. The bike mechanics at CyCLO check the stability of the frame, the fork and tubes, they adjust the play in the wheel hub, tighten the spokes, check vertical centring, etc. They check the tyre pressure and their condition, chain, lighting, gears and brake system.
Our hourly rate is €36 and we estimate the labour costs and replacement parts in advance.
Take care in the winter! Road salt put severe strain on your chain and brakes. So don't forget to clean your chain regularly and always remove excess oil after oiling.
Technical inspection
Every year, a car needs to pass a motor vehicle test for security reasons, so why shouldn't a bicycle? CyCLO subjects your bike to a mechanical test for free in all its workshops. During the checkup, we put the security as well as the compliance with regulations of your bicycle to the test based on a technical index card. It's up to you to decide whether you solve the issues yourself or have them solved by us.

controle fiche2.pdf
(47.21 KB)
Advice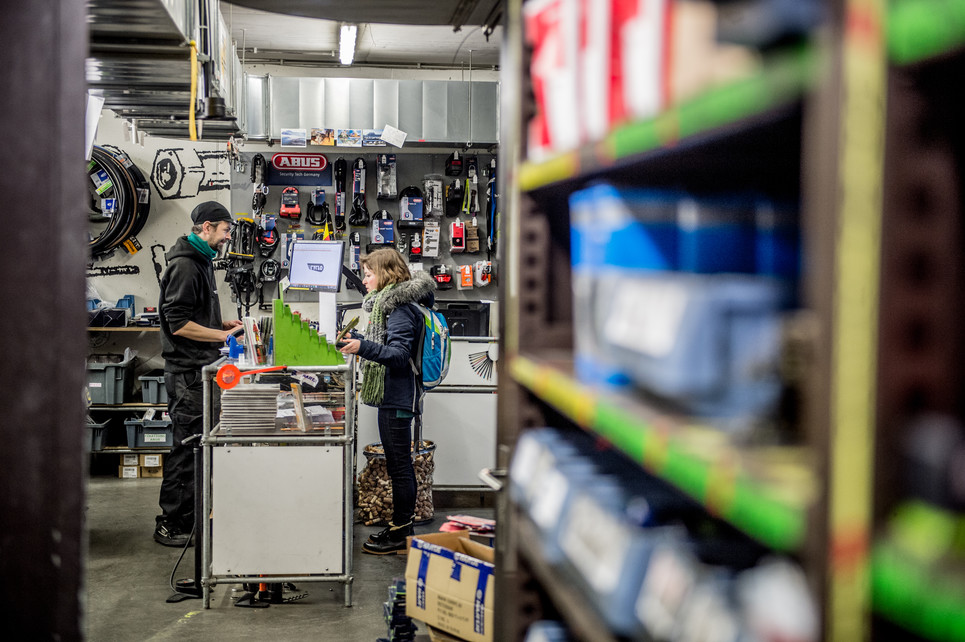 At CyCLO, the mechanics are passionate about bikes. They each have their own speciality: road, city, racing, foldable, chopper, BMX, fixed-gear bikes,… Whatever your bike question, there will always be someone to advise and guide you at CyCLO!
Services for companies and organisations
[COVID 19: Temporarily on hold]
Are you a company, school, association, municipality or public organisation and are you looking for an efficient and professional bike repair and maintenance service?
CyCLO also provides services to business.
Services for companies & municipality
Services for schools and associations