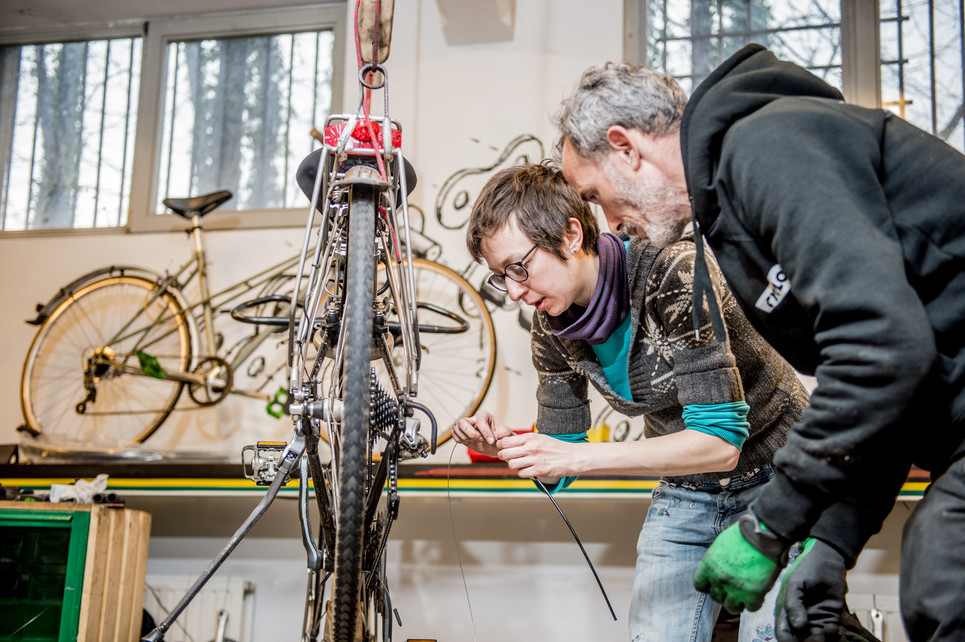 Repair yourself
[ UPDATE COVID 19 :  Do-It-Yourself; all by yourself and by appointment only during the regular opening hours : from Wednesday to Friday from 2 to 7pm and Saturday from 1 to 5pm. Wearing a mask is mandatory. This mask will help you to protect yourself as well as our mechanics. Payment by card only. ]
Being an independent cyclist is to know the mechanics and function of your bike to be able to maintain and repair the human-powered two-wheeler. The technical expertise at CyCLO is our raw material. We repair bikes for you but we also encourage you to do it yourself. So we offer modular courses and also a Do It Yourself space at Het Atelier Participatif. The different formulas:
Fix your own bike: you followed one of our classes and can work on your bike in an independant way? For 5 euros our workshop and its tools are yours! We also sell some basic tools. 
Fix your own bike with a little hand: repair your own bike with the supervision of one of our trained mechanics €10/h
Learn to fix yourself: Subscribe to our bike mechanic classes or ask for a (group-) worskhop on demand!  More info on the subjects, dates and schedule.

Info and Prices Het Atelier Participatif (FR + NL)
(883.88 KB)