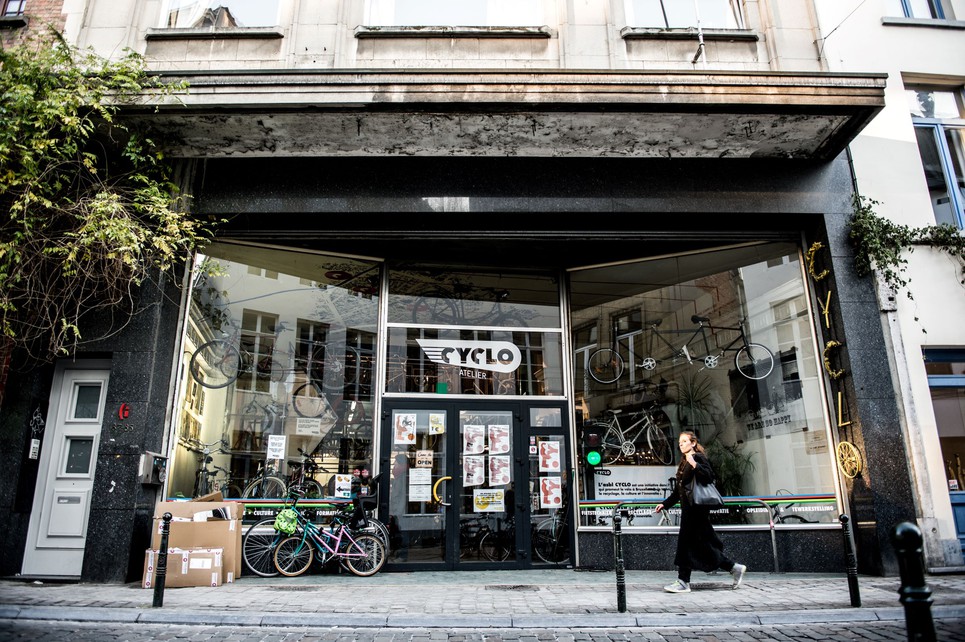 History
During the period from 2016 to 2020, CycloParking can count on the co-financing of the European Union (within the framework of the European Regional Development Fund) and the the Brussels-Capital Region. The partnership between Brussels Mobility, parking.brussels and several municipalities will allow the project to be completely implemented. CycloParking embraces CyCLO's approach as a social sector business. Many indispensable tasks are carried out by staff participating in a transition-to-work program: maintenance of the parking facilities, collecting information, diagnosing and resolving problems on the ground. Needless to say, our teams use cargo bikes to get around throughout the Brussels region!
Ever since 2003, CyCLO has been working out creative answers to three urban and regional challenges: mobility, employment and the environment. Isolde Boutsen was there from the very beginning:
"In 2003, founders Mattie Jacobs and Agnes Loonis got support from the Social Impulse Fund to roll out a mobility project. Various considerations turned into a single concrete idea. Shortly thereafter, this small group of people started their first bicycle workshop based in the Moutstraat: currently known as Globe Aroma. Two bicycle mechanics joined our team and helped us to set up the location and to train people interested in bicycle service and repair. A little later, we expanded our activities to the well-known workshop in the Rue de Flandre (formerly cinema Tabora), which quickly became our main workshop. Here, we repaired and sold second-hand bikes, started working out a training program for jobseekers and organized many other activities. The team of bicycle mechanics and workshop coordinators gradually expanded, which allowed CyCLO to grow creatively and professionally. The setting up of other bicycle workshops and collaborations with KFDA, De Markten and other non-profit organizations followed in short order... "
To this day, the CyCLO team takes its socio-economic mission to heart, making every effort to offer sustainable and high-quality services to a rapidly increasing number of cyclists (offering maintenance and repairs, rentals, sales, training and partnerships) and recovering abandoned bicycles from the streets of Brussels. In the meanwhile, CyCLO is active in 8 different locations, including 4 in Brussels train stations. In 2017, some forty bike mechanics carried out no less than 18,157 bicycle repairs in our workshops and another 3,000 on-site as part of our mobile repair service.
2003 Workshop Moutstraat
2004 CyCLO Workshop Rue de Flandre
2007 Bike Point North (the very first in Belgium!)
2008 Training Center Delannoy
2009 Bike Point Central
2010 Bike Point Luxembourg
2011 Bike Point South
2012 Brussels Lost-and-found for bikes
2013 Training center and office Kaai
2014 CyCLO Workshop Bockstael
2016 CycloParking
2018 CycloLokal
2019 Bike Point Bourse/Beurs + Het Atelier Participatif