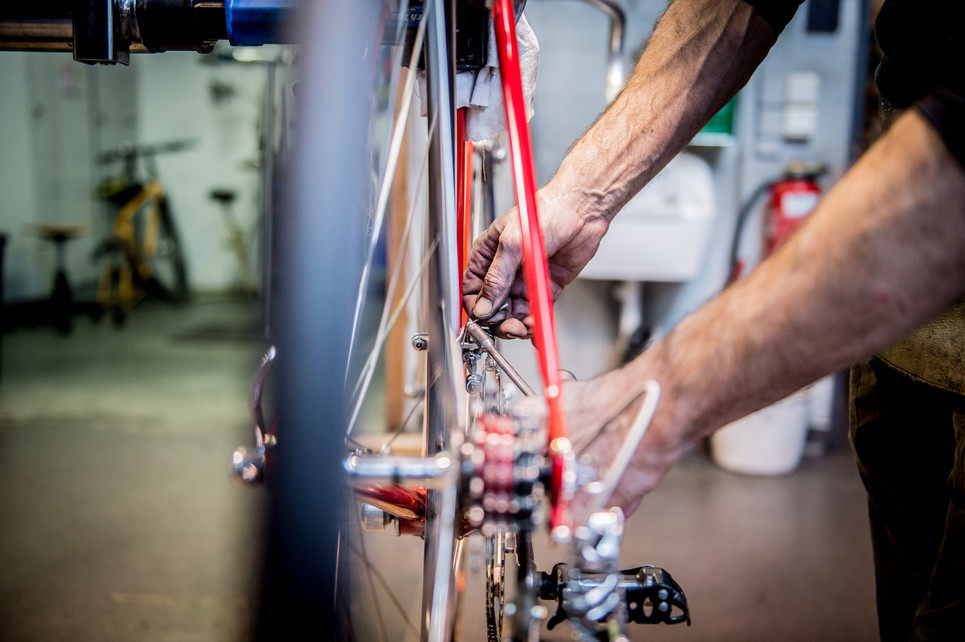 Repairs
CyCLO takes care of Brussels bikes and does everything it can to ensure that the maximum number of bicycles stay on the road in Brussels safely and for a long time. This is why bike repair is CyCLO's principal mission. Its 6 bike points handle any sort of repair, so long as they have the required tools and expertise. How does it work?
1. Take care of your bike
First and foremost, take care of your bike and have it checked out in time. You'll avoid costly repairs and you'll keep your bicycle longer. Did you know that you can pump up your tires and oil your chain for free at our bike points?
2. Check-up or problem?
You want to get your bike checked or you have a problem? Welcome to one of our 6 bike points! A problem on the electric power transmission of your bike ? Check out the web page on e-bike diagnostics and pass by Bike Point Central.
It's impossible to figure out what is the problem by telephone or from photos. Always bring your bike in. It's the only way to figure out exactly what the problem is. Just to be sure, contact the bike point before coming in to confirm that they can accommodate you. 
Avoid extra costs: Remove as many accessories as possible (lock, child seat, bike bags) and make sure your bike is clean. You brush your teeth before going to the dentist, don't you? ;-)
You can't ride your bike? Check beforehand that there are not too many people in the workshop and take advantage of how accessible our bike points are: for example, you can take your bike in the metro for free (except during rush hour).
The bike point has too much work at the moment? Check with one of our other bike points or call later before coming to the same bike point, so you don't make the trip for nothing. N.B.: we don't take appointments.
3. Check-up at the bike point
Our mechanic always starts by doing a general check-up of your bike. The check-up is free and non-binding. What are the questions that s/he tries to answer for you?
How long am I going to have to be without my bike? Can the mechanic have your bike fixed within 24 hours (usually by changing inner tubes, worn tires, brakes or faulty cables) or, if you're lucky, right away? Or will you have to do without your bike for a few days, because the repairs will take more time? 
How much will it cost me? S/he will give you a price estimate. This estimate is the sum of the necessary replacement parts plus the number of labor hours based on the CyCLO price list.
All the required repairs? Keep in mind that your bike often needs several repairs. The check-up is non-binding to a certain extent. More specifically, CyCLO can refuse to do a single repair, if it will not alone guarantee your safety. For example: you want to change a flat tire, but your brake cables are about to give out... Since brakes are required by law, CyCLO is required to do both repairs. Unless, of course, you choose not to have your bike repaired by us.
What if we can't help you for some reason? Go to the bike store where you bought your bike or have a look at this map showing all the bike-related services in Brussels.
4. During the repairs
Sometimes an unexpected problem comes up during the repairs. If the problem increases the estimated price of the repairs significantly, the mechanic will call you and discuss what has to be done or what s/he would recommend.
5. Is your bike ready?
Yippee! CyCLO will give you a call to let you know.
Don't wait too long to pick up your bike, so that another cyclist can make use of our repair service. After a 2 days delay, we need to charge you a fee of €3 a day. 
Use electronic payment options whenever possible. Did you know that you can also use ecocheques to pay?

Our tarifciation (only available in French and Dutch)
(149.52 KB)