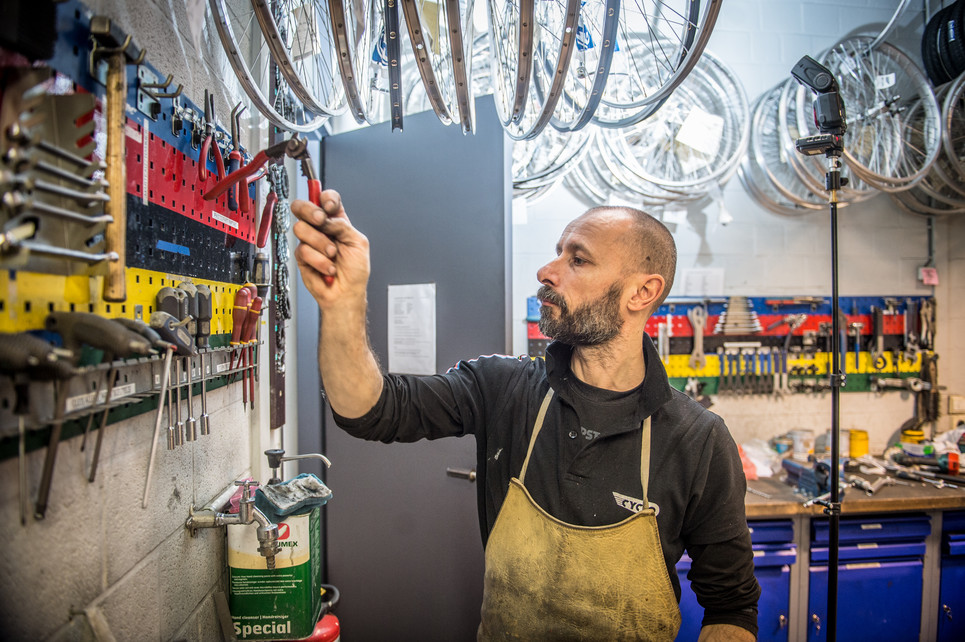 Bike Points
CyCLO operates out of 7 bicycle workshops (4 of which are in Brussels' railway stations): Atelier Bockstael, Het Atelier Participatif, and the Bourse, Central, Luxembourg, Midi and Nord bike shops. Each workshop is run by a workshop director and several staff members. Assistants from the transition-to-work program regularly give the teams a hand. Here are the services that we offer
A cyclist with a broken bike is not a cyclist. Bicycle repair is thus our number one mission. Apart from the participatory workshop, all of our workshops do all sorts of repairs, provided they have the necessary tools and skills available. By doing small repairs (replacing inner tubes, worn-out tires, defective brake pads or cables), the bike shops' emergency repair service makes sure that cyclists who've had a breakdown on the road can get home quickly and safely.
Roll up your sleeves and get to work at one of our open workshops! Professional tools and parts (both new and used) are available for your use. The bike mechanics have not yet revealed all of their secrets to you? Understand better how your bike works and learn how to use the tools. Benefit from the on-site support and advice of our mechanics or sign up for one of our course modules.
You want to buy a bike that's inexpensive, but still good quality? Opt for a used bike that has been refurbished and checked by CyCLO. Several times a year, CyCLO also organizes bike exchanges at various locations. So, get your old bikes out of the basement and let somebody else enjoy them!
In partnership with the SNCB and Parking.brussels, the bike shops are your first stop for information on the bike parks of the train or subway stations (both without or with controlled-access).
CyCLO offers city bikes, folding bikes, cargo bikes and trailers for rent. A good opportunity to explore the city in a new way or to try out a kind of bicycle before buying one. Also available for rent: bike-bags and child seats.
Information for cyclists
Whether at events or by making available leaflets and bike maps in all its workshops, CyCLO keeps Brussels residents, commuters and visitors informed about all topics related to cycling in the city. For detailed documentation and the opportunity to exchange information and ideas with other people who are interested in cycling (whether beginners, experts or simply people who are curious), come join us at the Participatory Workshop.